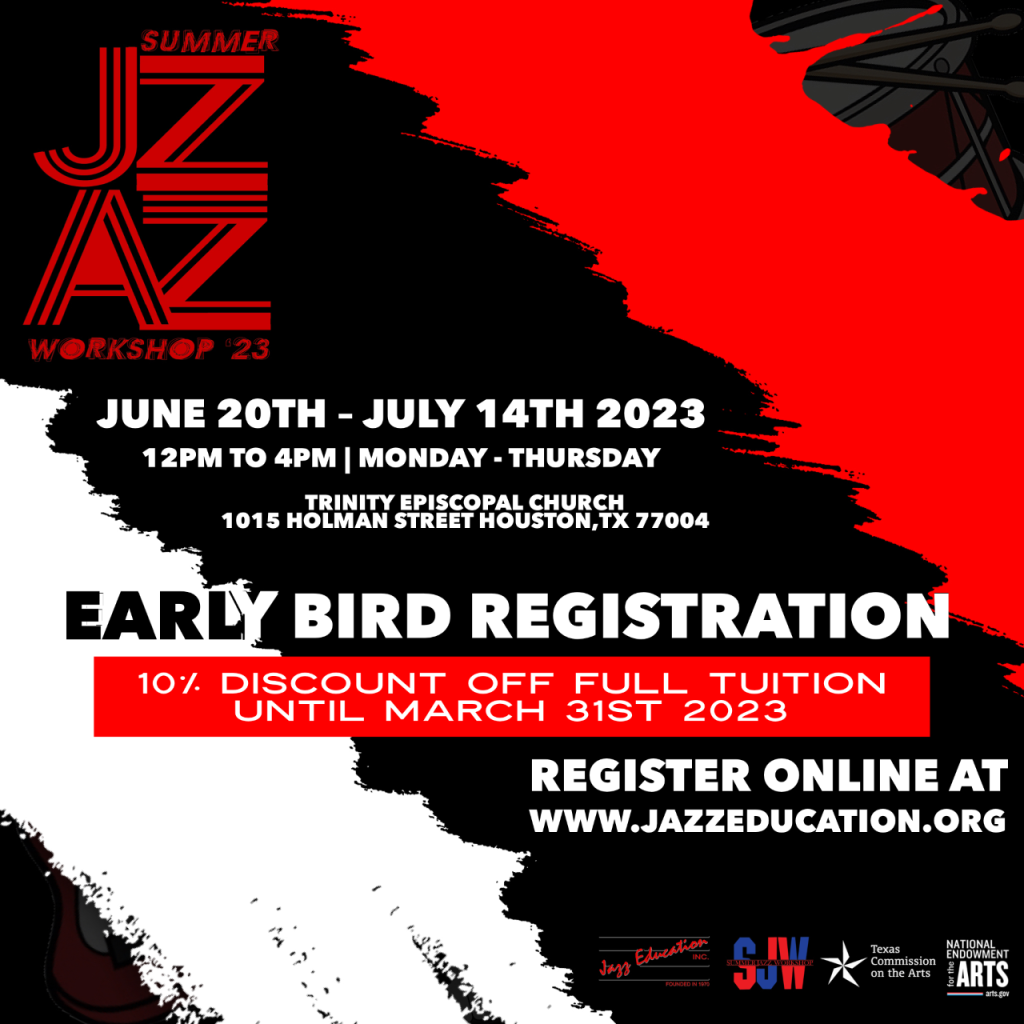 12pm to 4pm, Monday – Thursday
The Summer Jazz Workshop (SJW) is an exciting and challenging four week intensive summer youth camp, which focuses on the fundamentals of music and its associated business aspects, for young musicians. The SJW has trained over 15,000 students since 1972, and is open to middle and high school students, for those who have two years or more of formal music training.
---
"My son has learned so much while attending the Summer Jazz Workshop. This program has helped build his knowledge of music but most important, it has helped to build his character."

Shironda White, Parent
---
With a 50 Season legacy, the SJW is leading the next generation of musicians!
SJW students LEARN from, PLAY with, and INTERACT with some of the best musicians in the city!
Instructors (Click Here)
SJW Master Classes
Improvisation
To teach each student a system of identifying, defining, and reading chord symbols. To have each student improvise on several choruses of the blues, Satin Doll, and rhythm changes.
Jazz Idiom / Career Management
Designed to equip students with certified principles of music management. Students will be subject to the history and evolution of Jazz, and will explore future career opportunities in the music field.
Music Reality (Theory)
To help the student attain an understanding of basic melodic, harmonic, and rhythmic relationships. This will enable the student to have a working knowledge, applicable skills, and a basic foundation upon which they can create their own musical thoughts, i.e. Meters & Rhythm and Ear training/Dictation.
Audio Engineering Technology / Orchestration
The Audio Engineering Technology (AET) and Orchestration class is an introductory course on the art of creating music using general compositional techniques and knowledge of music software and devices. Each student will use their own computing device (Computer, Tablet or Phone) during the duration of the workshop. Students will also present their final class assignment/project to the camp.
Vocal Jazz Ensemble
Students will learn to perform and learn the language of jazz through opportunities to lead or solo, work with a team of people creating thick harmonies, using pop lines and imitating jazz inflictions done by instrumentalist.
---
Upcoming SJW – June 20th – July 14th 2023
Includes:
Four weeks of Master Class Music instruction
Hands on teaching with professional musicians and instructors
Special Guest Artist-In-Residence Musician
Workshop T-shirt
Student Awards Reception
Grand Finale Concert
Links:
SJW Scholarship and Financial Assistance